SPECIAL
---------------------------------------------------------
FREE Complimentary Easy-care Succulent
---------------------------------------------------------
Sprinkler Maintenance
The City has restricted your water use anywhere from ten to forty percent. Brown spots are showing up around your lawn and you are not quite sure what to do…We have solutions:
Sprinkler Evaluations- Our experts can identify weaknesses in your sprinkler system that will help you decide what actions you should take to save your landscape and your water. For example, we can test and evaluate how evenly your sprinkler's spray covers the grassy areas, as well as the slopes and planters. We can also determine whether the spray heads have been poorly positioned or if the spray nozzle water outputs are mismatched. Our evaluation will also let you know if adding or eliminating a sprinkler head will remedy your problems.
Sprinkler Repair- Do you have a leak in a pipe, a valve that won't turn on, a geyser where a lawn spray used to be? Our experts will quickly arrive and repair or replace what's needed. While we are there we can also adjust or change a spray nozzle, install a new timer clock or even add an emergency shutoff valve.
Or maybe the seasons have changed and you need to readjust the programming on your sprinkler timer clock. Our technician can reset your clock to accommodate changes in the weather or to meet the latest water restrictions. We can also discuss how little water your plants can get by with, which can save you water and money.
Smart Timers and Moisture Sensors
THE WEATHER BASED TIME CLOCK
How often do you adjust your sprinkler time clock?
Twice a year? Whenever it rains?
When you change your clock, how confident are you that the amount of water you're applying is the amount the plant needs?
Most folks, even professional maintenance people, are in the dark when they "guesstimate" how often to run the sprinklers and for how much time.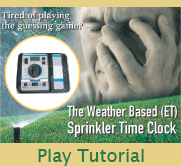 Now there is an informed, intelligent way to apply the water the plants need...and only the amount they need. In most cases, that amount is less-substantially less-than what most people would guess is needed.
It is called evaporative transpiration (ET) science. It is the measurement of the loss of water from a plant and its environment. The losses are calculated on a daily or even hourly basis. Then, based on current weather conditions, amounts needed to replace lost moisture are figured and then scheduled. Scheduling is implemented to prevent any amount of waste and to promote maximum plant health and vitality. To see a full explanation and an interactive video, visit HERE.
This same technology has been applied by golf course managers for the last 15 years. It is also used daily by the agricultural community and recognized by the water management authorities as the way to most effectively take care of the plant AND reduce water use. Read the reports if you like by clicking HERE.
Now homeowners can use ET technology. All of the well-established manufacturers of irrigation equipment are now producing ET clocks and information for small-scale landscapes, homes, multi-use housing, commercial and industrial sites.
These clocks are called Smart Controllers, ET Clocks and Weather Based Controllers. They all work in the same general way. They take weather monitor data and known characteristics of the plant type, the soil nature, the sloping of the site, root depths and volume output of the sprinkler systems. They evaluate that data and then determine the exact amount of water to apply. Then the computer re-programs the clock to meet that calculated need.
The main difference between systems is that some manufacturers collect the changing weather data from locations away from the landscape site and send it via satellite, while others collect climate conditions on the same site location as the landscape. Some systems require the owner to occasionally clean the weather monitor; others require a small monthly service fee for the daily satellite feed.
Substantial financial incentives are available to owners of single family, multifamily, commercial, industrial and institutional properties who install these systems. A good portion of the cost of the clock can be discounted through incentives offered by the San Diego County Water Authority. There are also grants up to $5,000 that can be used towards certain water-saving improvements for the above qualified facilities. Call us to find out the details.
All systems require an evaluation of the existing site before they can be installed. This is called an "audit." It evaluates the types of soil and plantings in the yard, the sloping nature of the terrain, etc. Most importantly, it determines the volume output of each of the sprinkler nozzles in each valve system and how uniformly each system applies water.
The time has come for more efficient use of our water resources. And it's remarkably convenient! Let Acacia Landscape Services of San Diego show you the way.
To learn more visit these other online resources:
Latest Technology for Lawn Irrigation
It's About Water by SmartLine
Intelli-Sense Series by Toro